VISA Check/Debit Card
Available by ordering through conventional method

Customer receives in mail 7 – 10 business days
Card is embossed
Images available: Green SCB card, Black WKU card, Silver WKU card and personalized cards through My Card Creation.

Available at branch location with Instant Issue Debit Cards

Customer receives card immediately (printer at each office main location and select other locations)
Card is flat (not embossed)
Images available: SCB Green, WKU (black or silver), participating High School logos, scenic images, and personalized cards. Note: personalized cards may take 1 -2 business days to process

Daily limits for POS – $1,000.00
Daily limits for ATM withdrawals – $510.00
Increases must be approved by loan officer or designated personnel.
Automatic reissue every three years. Customers will receive same image if SCB Green, Silver WKU, or Black WKU. If HS logo, scenic image, or personalized image, customer will receive the Green SCB card for reissue.
---
Make It Yours*
Personalize your VISA Check/Debit Card with photos of your family, friends, pets or almost anything near and dear to you!
MyCardCreation*Replacement Card Fees May Apply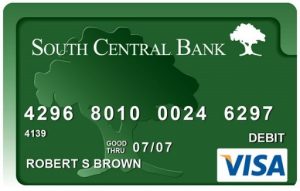 ---
CardValet
If you have a South Central Bank Visa Debit card you can sign up for CardValet. CardValet can be downloaded from the Apple Store or Google Play Store. Some of the features of CardValet are:
Get real time alerts for any debit card transaction.
Allows you to turn on and off your debit card.

---
Find an ATM Near You


Local Convenience. National Support.
With over 55,000 ATMs, Allpoint is your single source for surcharge-free access coast to coast and around the world. Allpoint ATMs are located in the convenient, destination retail locations.